Feng Shui Bed Guidelines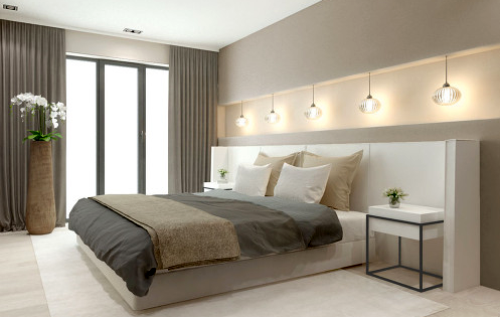 The bedroom is considered to be a place of romance, relaxation and rest. As a result of the fact that most people often spend about 8 hours or more in the bedroom, it is very essential to maximize the feng shui of this room to its fullest potential. It is very important to have a good feng shui in your bedroom because of the fact that it improves the harmonious flow of vibrant, sensual and nourishing energy. Having a good feng shui in your bedroom will make your bedroom more inviting, alluring, calming and exciting. A bedroom with a good feng shui is exciting and pleasurable to be in whenever you want. There are a lot of tools that can be used to create a good feng shui in your bedroom and some of them include:
1. A calming and comfortable color scheme
Based on the principle of Feng shui, the best colors that can be used in the bedroom are warm colors that are similar to skin tones like Coral, Yellow, Cocoa, Tan, Peach, Beige and Cream. This is because these colors are considered to be calm and soothing. Colors like Green, Light Blues, and lavenders are said to be restful and conducive. However, cool colors like Blues, Stark White and Blues are said to interfere with relaxation. So, if you want to get a good feng shui in your bedroom, it is best that you have 50 percent warm skin tones and 50 percent cool lavenders, blues or green. Skin tone colors are said to enhance maximum rest and promote maximum sensuality and peaceful sensations. You can consider using skin colors like Peach as an accent tone on Throws, Pillows and small objects. However, these colors and patterns should be kept to a minimum and with gentle limited patterns. It is also best that you avoid having crisp white walls in your bedroom to prevent it from getting too activated at night. The Stark white color is considered as the color of the metal element which is mentally stimulating and not conducive to rest.
2. Bed placement
Having an ideal bed placement will enable you to see the bedroom door when you are in bed without having to be directly in front of or in direct line with it. Based on the principles of feng shui, being able to see the door from the bed without being close to it provides a sense of safety and is conducive to relaxation and sleep. It is best that the foot of your bed does not point toward the door because this position is known as the coffin position and places the bed in the direct line of the traffic. However, if this cannot be prevented, you can put a high bench, table or footboard at the foot of the bed to serve as a buffer as long as it does not obstruct the view of the door. You should place the head of your bed against the wall but not under a window which would enable Chi to flow outside and result in restless sleep. It is also best that you do not put a bed under a structural or decorative beam or ceiling fan also because this is not considered a good thing for physical health or relationships. However, if this cannot be prevented, you can also hang a bamboo flute from the beam or fan to counteract the effects. So, the best way to place your bed to create good feng shui in your house is by putting your bed in the "Command Position". This is the position when your bed is in the view of your door but not directly or in direct line of the bed. This position will help you promote harmony and relaxation in your bedroom. However, if you place your bed on the same wall as your door, you may start feeling threatened.
3. Pairs of everything
Generally, you should attempt to get things in pairs as much as you can even if you are not currently in a relationship. For instance, you should try to have two identical nightstands, two pillows, two similar lamps and two seats (One on either side of the bed) in your bedroom.
4. Get accessories that nourish the five senses
Smell
If you want to get accessories that nourish your sense of smell, it is best that you use essential oils in an ultrasonic diffuser or a candle diffuser (most wax candles in the market presently often come with synthetic fragrances). You can limit this to a few drops of essential oil diluted in water and do not leave it diffusing for longer than an hour or two. Essential oils like jasmine and lavender have a calming smell.
Touch
If you want to nourish your sense of smell in the bedroom, it is best that you get soft, inviting fabrics as much as you can in your bedroom. If you are looking for soft, inviting fabric to put in your bedroom, you can get satin, Egyptian cotton and velvet for curtains, sheets, pillows, and cushions. The bed sheet should feel very soft to the skin.
Sight
The colors that you want to be seeing in your bedroom are Earth tones. Colors like Orange, Red, and Pink are called Fiery tones and they can also be used in the bedroom. You can also decide to get accessories with these tones can also be used in pairs in the bedroom.
Sound
If you want to nourish your sense of Sound in the bedroom, it is best that you get a small white noise machine to play calm and soothing tunes.
Taste
In order to nourish your sense of taste in the bedroom, you can put some fruits scents in the bedroom. Although you may not be able to bring food into your bedroom, you can keep a jar of water next to your bed with some lemon in there and drink it in the morning to get a quick boost.
5. Hide or remove electronics and exercise gear
Exercise gears and electronics like televisions and computers in the bedroom are considered to be distracting items that will hinder rest, take energy and symbolize wakefulness. However, if you have no choice but to have these items in your bedroom, you should hide them as best as you can. You can put the Television in an armoire or neatly cover it with a cloth.
6. Mirrors
Having mirrors in your bedroom can result in restlessness as a result of the fact that mirrors are said to bounce energy around in the bedroom. It is particularly important that you should not hang a mirror opposite your bed.